Office Hours
Monday-Friday 9 am-5 pm

24/7 emergency contact
Contact At Ease Home Care
1430 Pearl ST
Eugene, OR 97401
Phone (541) 344-3273
Fax (541) 744-1213
E-Mail Us

Follow At Ease Home Care
on Facebook
Contact Tender Home Care
2225 NW Stewart Parkway,
Suite 102
Roseburg, OR 97471
Phone (541) 229-6848
Fax (541) 391-4026
E-Mail Us

Follow Tender Home Care
on Facebook
What our recent Clients say about Oregon Home Health Care
Here are a few select testimonials our Clients sent us recently:
"We really enjoy working with At Ease Home Care, in Eugene. The staff are very attentive to the needs of our residents. They have an office at our community, and they are available when we need them for routine situations, and even in urgent situations. The staff take their jobs very seriously and do what ever they can to respect the individuality, privacy, and dignity of our residents. Heather and Hannah especially, go out of their way to make life easier for our residents. They are a great partner! "
Jill Krupoff, M.S.G., Executive Director, Crescent Park Senior Living


This is from a thank you card from the son and daughter in law of one of our Clients that had recently passed away. (Names may be changed for confidentiality purposes):
"Dear At Ease Staff: I want to thank you for the wonderful care you provided for Barbara in her final days. Every caregiver you sent her was kind and professional. There are 3 I would like to give special thanks to: Serena - who gave special comfort to Barbara and showed great patience and kindness to her husband even when he was being difficult. To Lila, who was there in Barbara's final hours, providing comfort to us all while caring for Barbara with compassion and respect - both before and after she passed. To Heidi who assisted our day aide in bathing Barbara. She showed extraordinary sensitivity to Barbara's needs. Her gentle manner & obvious concern for Barbara's comfort will be forever remembered by me. We are grateful to all of you."
Sincerely, Mark and Ann


"We contacted AEHC to find a part time caregiver for my husband, who had suffered a stroke. AEHC took the time required to really get to know us and what our needs were, so they could find the appropriate caregivers. We are very happy with the caregivers they identified. They have also been timely in responding to requested changes. They have definitely made our lives easier!"
Sheila R., Eugene, OR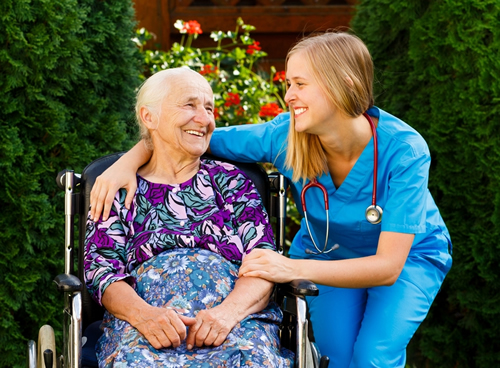 "The staff of At Ease Home Care are more than a "business" – they are our friends. We initially chose at Ease because they were personable and took the time to understand the "details" that were very important to me. Our caregiver Peggy comes in 2 times a week. She brings dad smiles, hugs – she cleans, cooks him lunch, prepares dinner for later in the evening, bakes his favorite sweets – but most important, fills the void of loneliness, helping me maintain balance in my own life.
Check them out – They will make you "At Ease" too
They Rock!"
Deena and Family, Eugene, OR


"As I am physically disabled with two small children, I've dealt with numerous caregiving agencies. At Ease Home Care surpasses them all, providing top-notch caregivers. What else can I say about At Ease except that they provided me with the most incredible caregiver and service I've ever had."
Julie T., Eugene, OR


"I enjoy working for AEHC. They do a wonderful job of putting Caregivers with just the right people to care for! I enjoy working as a Caregiver for everyone AEHC has sent me to help. It is wonderful to work for these very caring people!"
Caregiver B.C.


"I have enjoyed working at AEHC so much. The management has been so considerate and understanding and always so eager to match the right Caregiver with the right Client.

I have been so impacted with the Clients I work with. I have made good friends and I have learned so much, i.e. it's important to keep learning and trying to improve your understanding of your Client and their special needs, and in so doing your own "self" is enriched."
Caregiver M.T.
Additional references available upon request.